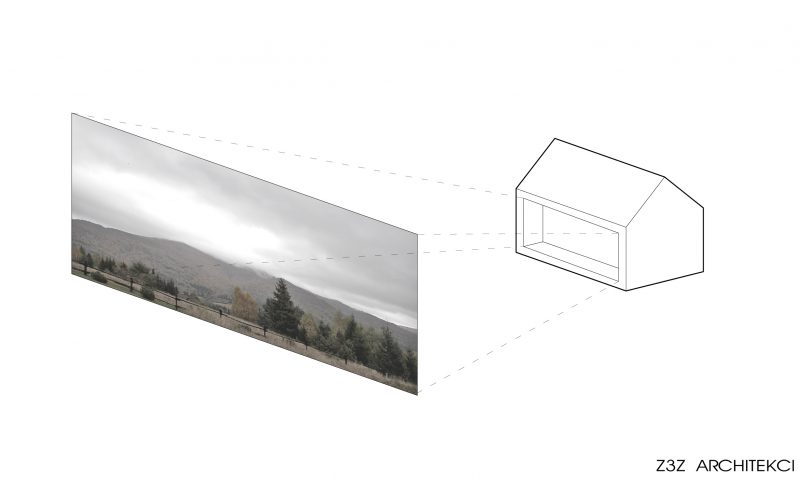 Location: Smerek
Project year: 2017
Area: 3 x 45m2
The houses will be located in the village of Smerek in the deep Bieszczady Mountains, right next to the Bieszczady National Park and the border with Slovakia and Ukraine. This is a project that has aroused rare emotions in designers from the very beginning. Designing surrounded by nature is always an interesting task, but this place exceeded the expectations of designers. The plot is located high, on the slope of a mountain, from which there is a wide view of the panorama of the Bieszczady Mountains. Staying on the plot, we feel that we are surrounded only by nature and we are very far from any civilization, at the same time we are intimidated by the wonderful views.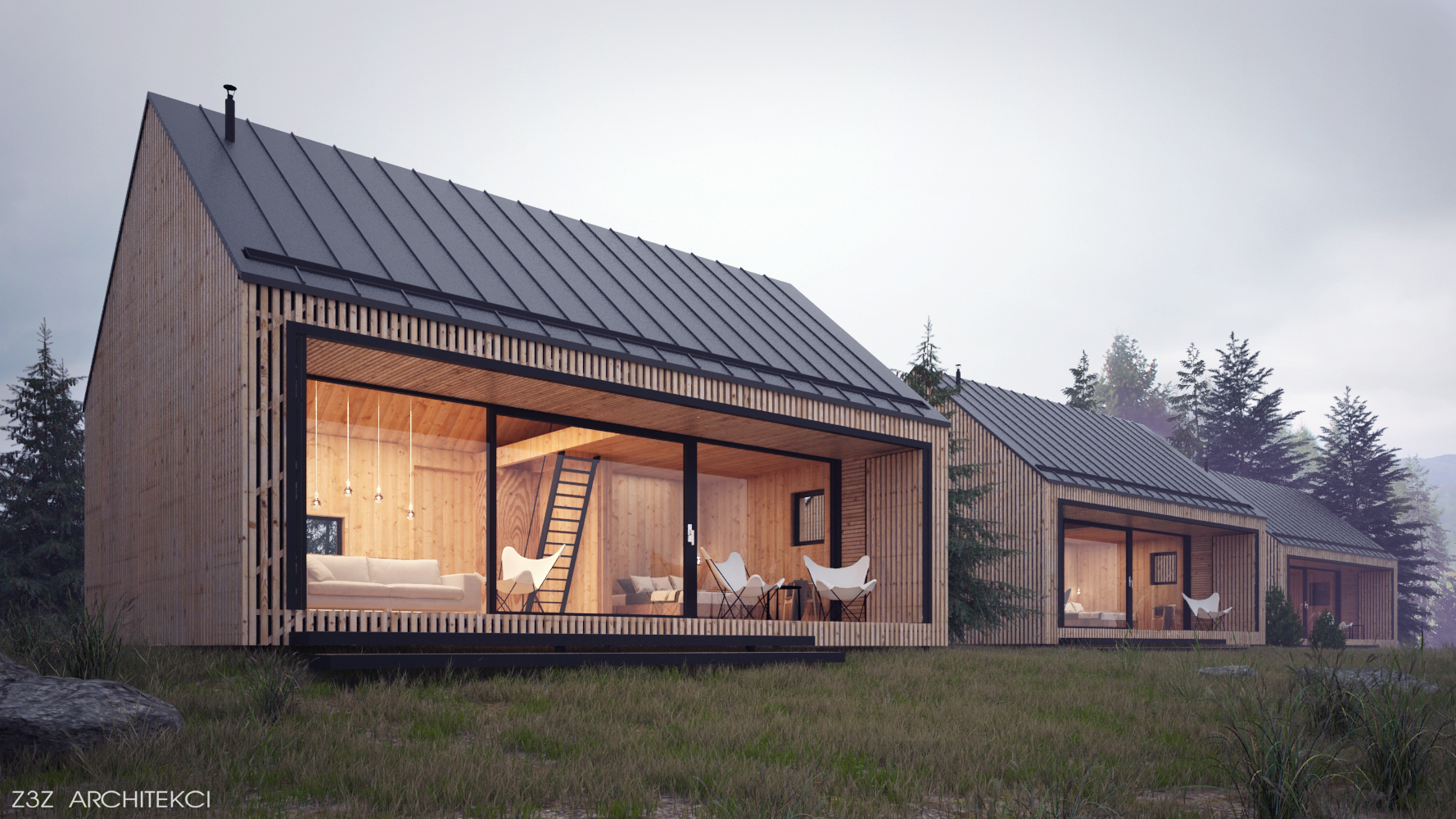 After visiting the plot, the designers felt great respect for this place. They knew they had to approach this project with humility. This was one of the reasons why such simple, modest blocks were created. The investor, delighted with his plot and the beautiful view, wanted one wall to be a large window from the beginning, so that he could enjoy the Panorama of the Bieszczady Mountains without going outside. He imagined, however, that the cottages would face the shorter side of the view. The designers went a step further. Starting from the Investor's inspiration and the assumption that even if the interior was great, the whole point of staying in this place is outside.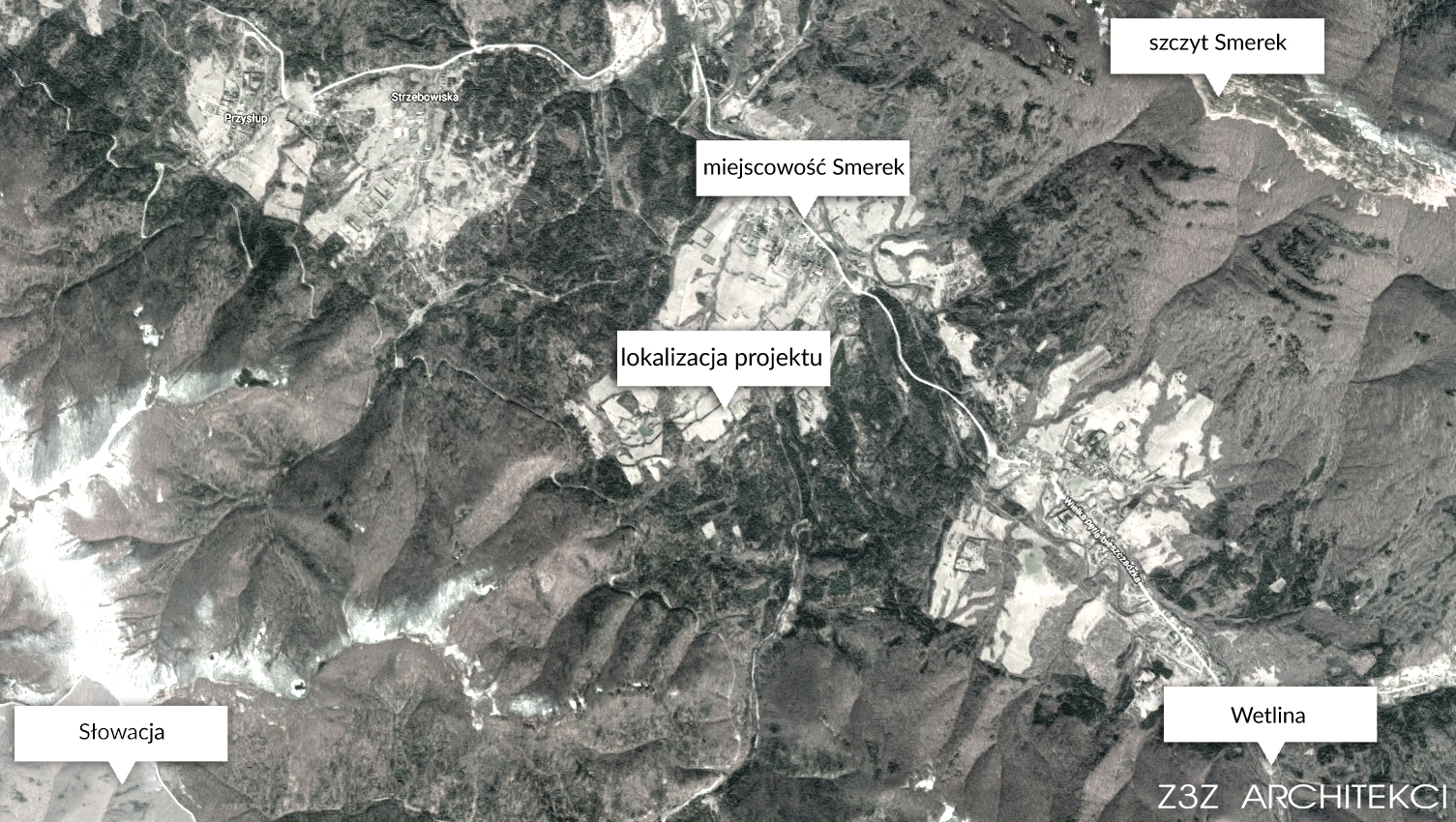 The goal was for all the activities inside to allow constant contact with the outside and the panorama of the mountains. That is why the houses were directed with the longer side towards the view, so that the glass wall enabling contact with nature was as long as possible. Thanks to this, being inside, we can enjoy the mountains from every room we are in. In addition, the large door between the living room and the bedroom was designed as a sliding door, so that after opening it, in a sense, the wall between the living room and the bedroom was eliminated and the view of the Bieszczady Mountains was even wider.
The buildings do not stand in one line, they are shifted "stepped" in relation to each other. The location on the plot and the side walls of the terraces are to ensure maximum privacy for the residents of each of them. Inside, each of the houses has a high living room with a kitchen not closed with a ceiling, a bedroom and a mezzanine above the bedroom.